You have been Selected!
How to create a selection box.
In this tutorial, we will show how to create a selection box. A selection box is the dotted line rectangle that you see in most real time strategy (RTS) games that is used to select your units. This tutorial will cover how to go about creating a dynamically sized rectangular selection box that could be useful in creating your own RTS game.
Creating the new game project:
To start, first create a new Windows Game Project. This can be done by launching XNA Game Studio Express and then selecting File -> New Project from the Menu.
In the New Project window, select the "Windows Game" template and then give the project a name and choose a location to save the project.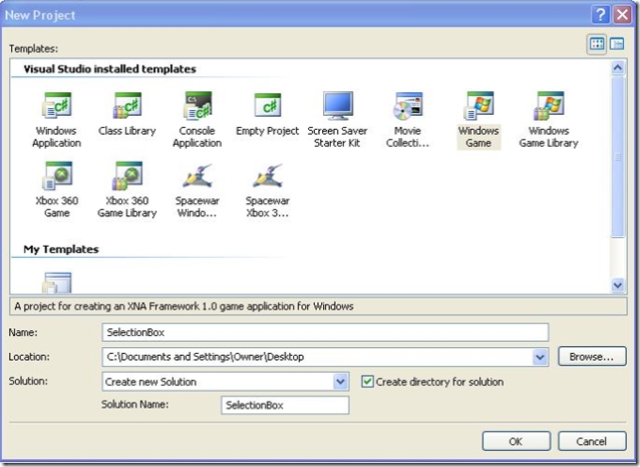 Let's stop here and do a quick build

so you can see the power of XNA (and so we can verify that the project was created correctly and that your video card supports the minimum XNA requirements).
When you run the project, you should be greeted with a Cornflower blue window. If you're seeing this lovely shade of blue, then you have successfully setup your new game project.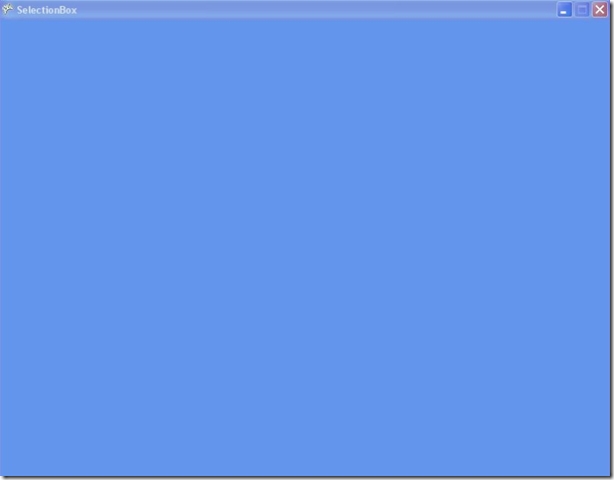 If you have an error, then your video card most likely does not meet the minimum requirements for XNA. See the XNA FAQ from the Microsoft site for the minimum requirements and verify that your video card does meet those requirements. If you believe your video card does meet those requirement and are still getting an error, then I recommend you head on over to the MSDN XNA Forums and describe the error you are getting ask for some help there (you will probably see me around there, I find them to be a great place to hang out).
Making the Mouse Pointer Visible:
We will start things off in this little project by making the mouse pointer visible for our game. By default, XNA games start out with the mouse pointer being invisible. This is because for most games you will most likely want to make a custom mouse pointer to be displayed instead of the standard windows mouse pointer. For us however, the standard windows mouse pointer will work just fine so we will go ahead and make it visible now.